Rosebay Willow-Herb Tea with ROSEBAY WILLOW-HERB FLOWERS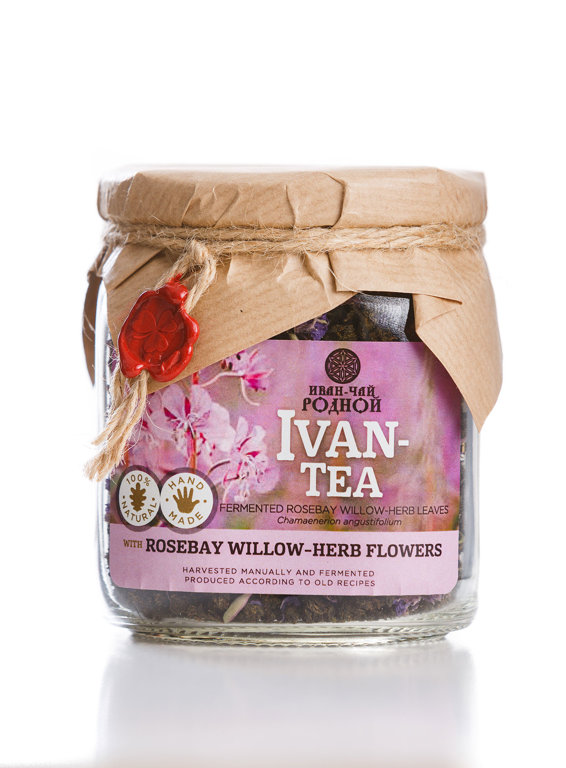 This product comes from the northern land wild forest meadows. Although it is known in Europe since the 19th century, when that tea became a No. 1, now for it is a huge interest again, because of its unique and unsurpassed qualities.

For manufacturing of the Fermented Native Ivan Tea (Rosebay Willow-herb Tea) we use and follow the traditional method of black tea production, including specific nuances specifically relating to Rosebay Willow-herb leaves fermentation, in order to make our main product. Collected fresh leaves are withered, rolled, fermented, cut to facilitate the packaging and then immediately dried at low temperatures. Then we sort and merge with natural ingredients to get the Native Ivan tea with the necessary characteristics - looks, smells and, most importantly, taste.
Main properties of NATIVE Ivan Tea with Rosebay Willow-herb flowers:
Antioxidant and anti-ageing activity
Maintains a healthy prostate
Supports heart
Improves digestion, helps in prevention and treatment of gastritis and ulcer, protects mucous tunic of the gastrointestinal tract
The Rosebay Willow-herb Tea is rich with Vitamin С and various micro and macro element, it doesn't contains any caffeine. It is considered that regular intake of NATIVE Rosebay Willow-herb Tea gives more energy to the man, Increase general level of immunity. This drink is truly a wonderful addition in our daily ration.
Quality and salutary properties of any tea depends from many factor. The most important of them are listed below:
Climatic conditions and ecological purity of the environment (water, air, land), in which the plant (raw material) grows.
The type of soil, its structure and fertility.
The method and the process of making tea where largest part of the work being done by hand, from cultivation and till retail packing.
Without any Doubt, factor these define the quality of our Native Rosebay Willow-herb Tea as well, giving it truly unique properties, creating individual aroma and taste bouquet.
After brewing for about 15-20 minutes, the Rosebay Willow-herb Tea acquires beautiful amber color, the drink breathes with meadow and honey aroma, tastes slightly tart with very light, pleasurable sourness.
Harvested manually and fermented in Latvia
Produced according to old recipes
Ingredients: fermented Rosebay Willow-herb /lat.Chamérion angustifólium/ leaves, Rosebay Willow-herb flowers