100% Pure Siberian cedar nut oil ENRICHED WITH CEDAR RESIN 7.5%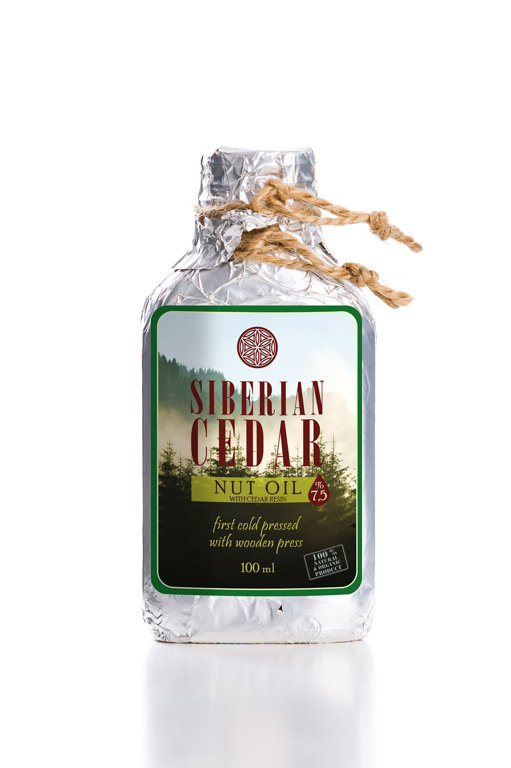 Oil is a composition of Siberian cedar nut seeds oil and natural, cleaned cedar resin, as evidenced by a slight slump in oil. First cold press Siberian cedar nut oil, pressed in wooden presses.

Siberian Cedar Nut Oil in older time was named the means from 100 illnesses.
This special cedar nut oil is made from Siberian cedar nut kernels with manual skills application. The technologically process is close to the process of manufacturing described in ancient books, which was used from generation to generation.
The Cedar oil was always considered a delicacy. It is easily acquired by an organism, possesses high nutritious and curative properties, it is unusually rich in vitamins also microcells. Cedar nut oil contains a wide set of substances useful for a human body: polynonsaturated fat acids, fibers, vitamins А, В, Е, D, F, 14 amino acids, 19 microcells.
Siberian Cedar resin - a natural antiseptic. Siberian Cedar resin stimulates the cell membrane clearance, the restoration, normalizing cellular metabolism. Cedar resin is a wonderful immunostimulant that restores the vital energy of the organism and promote healing.
Siberian Cedar nut oil, enriched with cedar resin is used:
for Omega 6 and Vitamin E deficiency prevention;
as a means strengthens the body;
as a means to stabilize blood pressure and lowering the risk of colds;
as part of treatment for treating tuberculosis, oncological diseases, stomach diseases (gastritis with high acid levels, stomach-ulcer and 12 duodenal ulcer, duodenitis, constipation, proctitis), increased hair and nail brittleness cases of gynecological ailments.
How to use:
Use 1-2 teaspoons 2-3 times a day 30 minutes before meals (oral). Course duration: 30 days. For better exposure needed 2-3 courses.
Siberian cedar oil could be used as bath massage oil or use for sauna, gives skin renewal effect, makes it a powerful and flexible and serve as a preventive agent against various skin diseases.
Shake up before the use.
Manufactured in Latvia, EU.
Ingredients: Pure (100%) Siberian Cedar nut kernels oil - 92,5%, Siberian cedar resin – 7.5%.
Country of origin: Siberia, Russia.