100% Pure Siberian cedar nut oil (Volume net: 100 ml)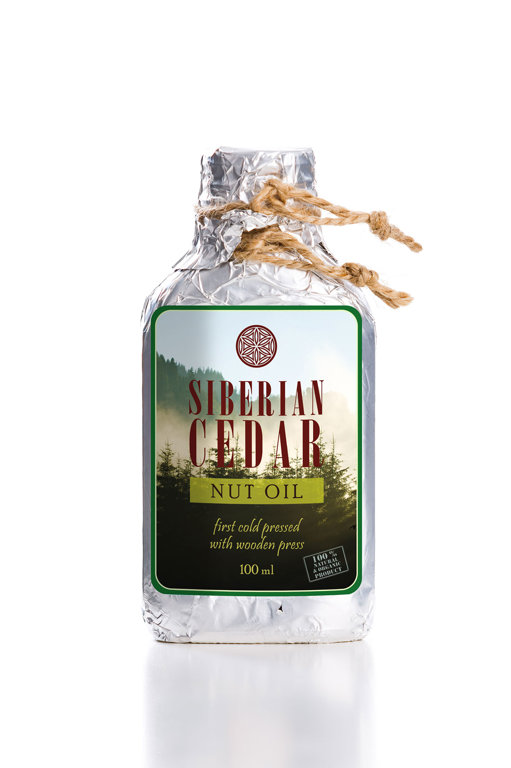 Siberian Cedar Nut Oil in older time was named the means from 100 illnesses.

This cedar nut oil is made from Siberian cedar nut kernels with manual skills application. The technologically process is close to the process of manufacturing described in ancient books, which was used from generation to generation.

The Cedar oil was always considered a delicacy. It is easily acquired by an organism, possesses high nutritious and curative properties, it is unusually rich in vitamins also microcells. Cedar nut oil contains a wide set of substances useful for a human body: polynonsaturated fat acids, fibers, vitamins А, В, Е, D, F, 14 amino acids, 19 microcells.
We offer natural product, which created by wild nature that heals and doesn't cause side effects.
Hand-made. Oil is pressed by wooden press, which prevent the oxidation, because there is no contact with metal.
100% Siberian Cedar nut oil:
acting as a general body strengthens tool
restores the body forces
increase the human body's mental and physical abilities
contribute to the prevention of chronic fatigue syndrome
increase men's potency
The body easily absorbs it and it has high nutritional and medicinal properties, it is unusually rich in vitamins and trace elements. Cedar nut oil contains a wide variety of the human body to a set of useful substances: polyunsaturated fatty acids, fiber, vitamins А, В, Е, D, F, 14 amino acids, 19 micronutrients.
How to use:
Take 1-2 teaspoons 2-3 times a day 30 minutes before meal. For best efficiency 2-3 courses are necessary. Course duration: 30 days.
The use of Siberian cedar oil for massage in a bathhouse or a sauna gives the effect of skin rejuvenation, makes it strong and elastic and provides the prophylaxis of skin diseases.
Siberian Cedar nut oil is recommended to add in salads, dishes, for giving them a unique taste.
Shake up before the use.
Manufactured in Latvia, EU.
Ingredients: Pure 100% Siberian Cedar nut kernels oil.
Country of origin: Siberia, Russia.